It's finally time for me to show you our tasty edible doggy cards Christmas range. I'm so excited to bring these cards to you and hope you love what we've been working on. 

Thanks so much for supporting us in this crazy thing that we do.

Gemma x
Happy Pigs in Blankets Day
First up, we've got this tasty card… in vegan friendly bacon flavour (of course!)
All I Want for Christmas is CHEW 
Okay, this next card is a bit of a cheesy pun, so we had to make it in cheese flavour.
Merry Christmas to the Best dog Ever
Probably my personal favourite of this year's Christmas range – the sentiment says it all really, the only real problem is choosing your favourite doggy. 

Winner Winner Christmas Dinner 
Turkey always takes over Christmas, but not this time – here we have a Winner Winner Christmas Dinner with a twist… It's chicken flavoured!
Merry Christmas 
It just wouldn't be Christmas without turkey, so this snazzy card is exactly that! Remember, all our flavours are natural composites and don't contain meat or dairy, and our cards are all gluten, grain and wheat free. 
Personalised doggy Christmas cards
If you're looking for the personal touch, don't forget our customisable Christmas card. What's particularly amazing about these cards is you can customise by adding the dog's name and also choosing a flavour that they'd most like. For these cards, you can choose from bacon, turkey, chicken, cheese or peanut butter.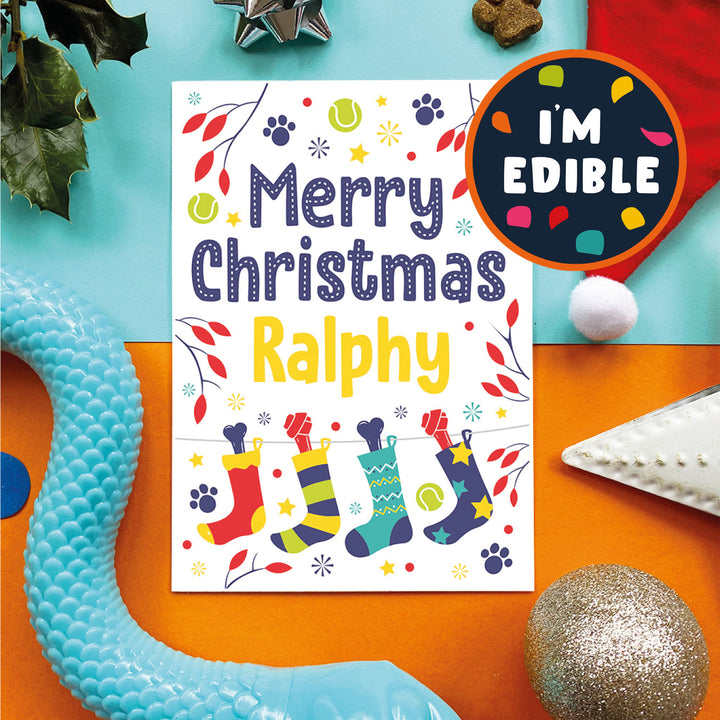 Classic range
Because a lot of you really liked the pun-tastic range we did last year, we've brought some back so you and your doggo can enjoy a bit of punning around the Christmas tree.
View the classic range HERE
We really love making tasty edible cards for dogs and Christmas can be such a wonderful time for the dogs, so I hope you like our snazzy new Crimbo range.

We're now taking orders for these tasty Christmas cards, so please don't leave it too late as we really wouldn't want your pooch to miss out.

Merry Christmas everydog!
---